Carpet Stores in Jacksonville, FL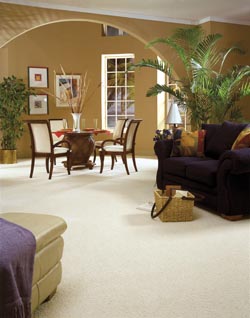 There's no other flooring quite like carpeting. Its soft, fluffy texture is a great way to add comfort to your home or office. And at Flooring America of North Florida, we're here to make sure you choose the right texture and style.
When you visit our flooring showroom, you'll get the opportunity to sort through a range of samples to find what you like. But don't worry--unlike some other carpet stores in Jacksonville, FL, our professionals are with you from the selection stage to the final installation. This way, you can be confident that the final results will satisfy.
Our team consists of sales staff, in-house design specialists, and experienced installation contractors. They all work together to thoroughly understand your goals and make sure you get the carpet flooring that meets them. So whether you know exactly what brand, color, and texture of carpet you want, or you need a little extra guidance, you can find the ideal products and services at our showroom.


Better Insulation for a More Peaceful Home
One of the best advantages to installing carpeting is the level of sound insulation it offers. Sound is absorbed into the fibers, so you don't have to worry about hearing every footstep or having voices echo throughout the house. Instead, your indoor environment can get a little more tranquil.
Sound isn't the only thing that gets better when you add insulation--you can also save on your energy costs. Carpets trap in heat, making the job for your heater a little bit easier. Visit our carpet store to see for yourself. Our professionals are happy to show you the insulating capabilities of different textures and materials.


Carrying the Brands You Trust Most
Even though you may be looking for carpet flooring for your home or office, it doesn't mean you don't have your own unique needs and preferences. Fortunately, we carry a large selection of carpet samples. Matched with our sales staff's extensive product knowledge, we're sure you can find the perfect materials for your next remodeling project.
When you need guidance in the selection process, you can always count on us. We carry some of the industry's most trusted names, and we're always happy to let you know the differences between them. Visit our carpet store when you're looking for any of the following brands:
Core Elements
Downs
Gibralter
Hearth & Home
HomeCraft
Innovia
Resista
Stainmaster
Tigressa


Professional Installation for Longer-Lasting Carpets
When it comes to carpet installation, it pays to turn to our experienced contractors. With their precise measuring techniques, they make sure you don't have to pay for more materials than you need--and that precision carries over into every task in the installation process.
To give you peace of mind about our work, we offer a Lifetime Installation Guarantee. If you ever experience an installation-related problem with your carpeting, let us know and we'll fix it at no cost to you. It's just one of the many ways we ensure you're confident about your new floors.



Contact us today to learn more about our carpet flooring products. We proudly serve customers from Jacksonville, St. Augustine, Orange Park, Fleming Island, and Green Cove Springs, Florida, as well as the surrounding communities.