Countertops in Jacksonville, FL
Are your kitchen or bathroom countertops tired, outdated, and in much need of a refresh? Flooring America of North Florida is the Jacksonville area's leading countertop store. With our wide selection of stone countertops, custom installations, and design expertise, you'll find beautiful new countertops while enjoying every step of the remodeling experience. Our knowledgeable professionals are here to satisfy all your home renovation needs in a way that works best for your budget. Visit our Jacksonville, Florida, showroom today to browse our countertop selection and discuss your project with our expert team!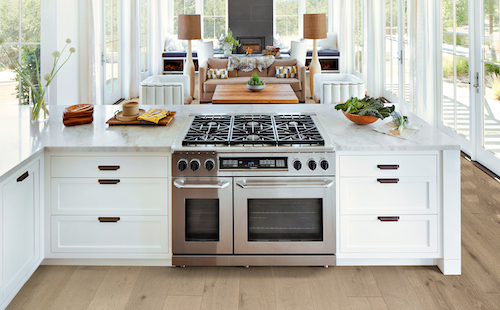 Types of Countertops Available at Our Local Store
Flooring America of North Florida is proud to offer customers a wide range of countertop selections at various price points. We believe any customer should be able to upgrade their home with a beautiful design at a budget and size that meets their unique needs. Our team will be happy to guide you through our countertop options to find the perfect selection. From a sleek, contemporary look to a rustic farmhouse aesthetic, we have countertop products that will enhance your interior! Achieve any look you desire with our beautiful stone countertops, including the following:
Stone: Our showroom provides a variety of stone countertop options that bring durability and design to any room.
Granite: Popular among our Jacksonville customers, granite is a timeless option that withstands heavy use for many years.
Quartz: Our quartz countertops offer enhanced durability engineered from a combination of quartz, resins, polymers, and pigments for an equally beautiful and affordable countertop solution.
Marble: This luxurious stone is an elegant countertop that never goes out of style, making it a unique addition to any space.
How to Select A Countertop for Your Florida Home
When selecting a countertop, it's important to consider a variety of factors that contribute to your design and lifestyle. Your current design–including cabinets and flooring—as well as the function of your space will determine which type of countertop fits best. If you are unsure of where to start, our team is happy to offer our design expertise and recommend products based on your unique needs. Start thinking about the following factors when selecting a new countertop:
Overall Design
Function
Storage
Spacial Flow
Structure
What are the Benefits of Updating Countertops?
Remodeling your kitchen or bathroom countertops is an easy way to update the look and feel of any space. We strive to bring you quality countertop products from industry-leading brands and manufacturers so you get the most out of your investment. Here are all the benefits of renovating your countertops:
Transforms the design of your kitchen or bathroom.
Increases the resale value of your home.
Improves the overall efficiency of your space.
Adds necessary workspace for your daily tasks.
Waterproof, scratch, dent, and fade-resistant countertop options.
Beautiful custom designs that perfectly align with your current space.
Our durable countertops last even with heavy use.
Custom Countertop Installations with Our Jacksonville Contractors
When it is time to install your new countertops, rely on Flooring America of North Florida for a quick process and precise finish. Installing new countertops requires the proper tools and skill to lift, place, and secure the countertops with accuracy. Countertops can be especially heavy and often come in awkward shapes, especially with a custom stone slab. For your safety and ours, we strongly recommend leaving the installation job to the professionals. This way, you can enjoy your new space faster and with peace of mind!
At our local store, we always put your lasting satisfaction as our top priority. When you inquire about new countertops, we provide professional in-home measurements and a free estimate. Discover why we are Jacksonville's go-to store for kitchen and bathroom countertop remodeling!
Contact us today to start your countertop renovation with our friendly team! We proudly serve Jacksonville, Florida, and the surrounding communities in the Duval County area.