Hardwood Flooring in Jacksonville, FL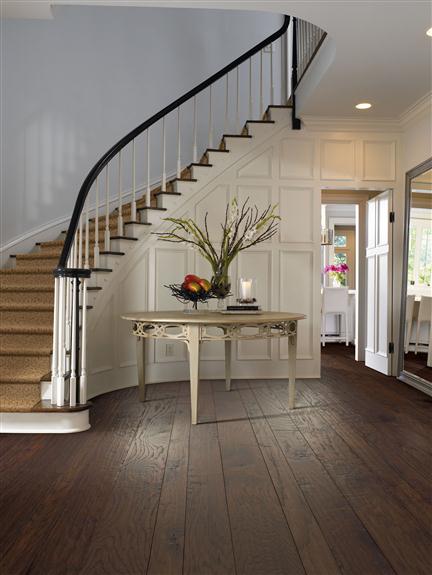 It's difficult to overstate just how much value hardwood floors can bring to an indoor environment. From creating a warm and inviting atmosphere to increasing the property value of a home, wood flooring does it all.
At Flooring America of North Florida, we work with customers throughout the community to find the right species, plank sizes, and finishing colors for their spaces. We have a wide range of options to choose from--and with help from our friendly and knowledgeable staff, we're confident you'll find the exact product to meet your design goals.


Engineered or Solid Hardwood: Which Will You Choose?
When shopping for hardwood flooring in Jacksonville, FL, the first thing you should decide is whether to go for engineered or solid wood floors. Both are great options, but they serve different roles within a home environment.
Engineered hardwood flooring looks and feels like traditional hardwood but is great for moisture-heavy spaces like kitchens and bathrooms. That's because it's made up of several layers of wood that are pressed together. This gives each plank the ability to expand and contract without cracking or splintering.
Solid hardwood floors, on the other hand, are great for living rooms and other high-traffic areas. They can be sanded and refinished multiple times, which means they can last for decades with the proper maintenance.
Because of our expansive selection, you can mix and match these options depending on your needs. If you want hardwood flooring throughout the home, we make the transition from solid to engineered floors seamless.


With You from Selection to Installation
Making a confident purchase decision is tough, but our team makes it easy--even fun--to shop for your next floors. First, our sales professionals talk to you to determine your needs and style. Then, they pull samples they know you'd like. If you have any questions about different brands or materials, our knowledgeable team is ready to answer them.
If you're trying to decide between a few samples or if you want to be 100% sure your choice is the right one, our in-house design professionals are here to help. They'll show you what your space will look like with different types of hardwood floors so you can see if the planks are the right size and color.
When you've made your final decision, you can take advantage of our hardwood flooring installation services. Our experienced contractors follow every step of the installation process without cutting corners, allowing you to have a gorgeous floor that'll last for years to come.


Quality Services Guaranteed to Satisfy
At our flooring showroom, we want you to feel good about your purchase and about the final results. That's why we offer industry-best warranties and guarantees, such as our Confidence Plus Warranty. This promise allows you to replace 4-Star or 5-Star hardwood flooring if you're not satisfied with it after 30 days--all without paying for additional labor. Talk to us to find out about our other warranties and guarantees.



Contact us today to learn more about our hardwood flooring products. We proudly serve customers from Jacksonville, St. Augustine, Orange Park, Fleming Island, and Green Cove Springs, Florida, as well as the surrounding communities.