Hardwood Floor Refinishing in Jacksonville, FL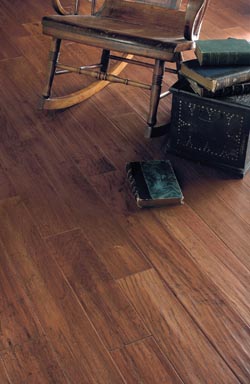 Trust the qualified flooring technicians at Flooring America of North Florida to make your old hardwood look as good as new. We offer a range of services, including staining, finishing, and performing repairs. So whatever you need to give life to your floors again, you can count on us.
Hardwood flooring has been used in homes for centuries--and many houses still have original floors that are over a century old. The reason these floors have lasted so long is because people took the time to maintain them. But unlike a century ago, it's easy to ensure your wood gets the proper care--especially when you turn to our company for your hardwood floor refinishing in Jacksonville, FL.
The process of refinishing and restoring hardwood floors involves a lot of experience to perform properly. Our team has extensive training and hands-on experience with many different species and conditions of hardwood. When you take advantage of our services, you can put your mind at ease knowing you're going to have great results in no time.
If you don't know what type of restoration service you need, we're happy to help. We pride ourselves on our honesty and strong work ethic. As such, we'll never tell you that your floors need unnecessary work. Instead, we'll evaluate the damage to determine whether a simple stain or a more involved restoration solution is needed.


Don't Replace When You Can Refinish
The biggest benefit to our hardwood finishing services is that they save you from having to replace your hardwood. Replacing any type of flooring is a time-consuming and costly project. You have to find and purchase new materials, and then you have to find qualified professionals to perform the installation. And while that's not hard at our showroom, it's a step you can avoid altogether by updating the floors you already have.
We have several options, and we've worked with floors that have been in major disrepair. So even if you don't think your hardwood is fixable, give us a call anyway. We'll let you know what your options are.
For minor scuffs and scratches, or if you just want to update the style of your flooring, we suggest our hardwood staining services. This involves lightly buffing out the damage and staining the wood to cover up any blemishes. More serious hardwood floor refinishing services include sanding down the wood, staining it, and sealing it to protect from further damage. Whatever solution we provide for you is done with strict attention to detail so your floors stay looking new for as long as possible.


Skilled Hardwood Finishing Contractors
Harwood finishing services are difficult to do properly. That's why it's important to find someone who not only has the right experience and skills, but also the dedication to your satisfaction. Our whole business is customer-centered, which means we do everything we can to ensure you get the quality results you deserve. Schedule a consultation to learn which type of refinishing service you need.



Contact us today to learn more about our hardwood restoration services. We proudly serve customers from Jacksonville, St. Augustine, Orange Park, Fleming Island, and Green Cove Springs, Florida, as well as the surrounding communities.