How to Extend the Life of Your Flooring in Jacksonville, FL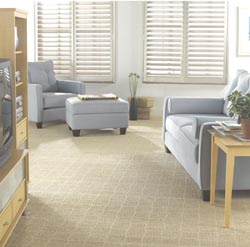 New flooring in Jacksonville, FL, is a big investment in your home, whether you're buying for one room or the entire house. As your local experts in floor coverings, Flooring America of North Florida, we're here for you throughout the process — from selection to sales to installation and maintenance. Let us offer you useful information on keeping the beauty of your flooring intact.
The helpful folks you meet at our flooring store are trained and knowledgeable sales and design professionals. They have more information about brands, products, and design than you can imagine. Out of that wealth of knowledge, they share this information with you on how to extend the life of your home flooring:
Regular Cleaning — Yes, cleaning is essential to walking on your floors for many years to come. The reason is this: Dust, dirt, and debris can get into the nap of the carpeting or grout of the tile, and even work their way into the seams between wood or vinyl slats. Regular vacuuming or sweeping prevents dirt from making a permanent home on your floors. And, it's always best to take care of spots and stains right away. Check out the flooring care guide for specific information on methods and products to use on different surfaces.
Preventive Care — When it comes to your flooring, prevention is worth a great deal in preserving the appeal of these surfaces. One of the simplest and easiest methods of protection is the use of area rugs. Strategic placement minimizes damage. For instance, a rug underneath a living room furniture grouping safeguards the flooring underneath. Also, rugs in areas of heavy traffic do a great deal to prevent scratches and scuffs.
Professional Installation — How your flooring is installed matters a great deal. When tile or plank is installed incorrectly, it tends to shift and crack, creating the need for repairs in the future. From our years in the flooring business, we have seen firsthand how important professional installation is. When you come into our store to choose your flooring, we're ready to schedule installation for you.
Shop with Us for Success
We want to be your go-to flooring store. This is why sales, selection, and service matter so much to us. No matter how much or how little you need, we offer a fabulous selection of brand-name flooring in a wonderful assortment of types, styles, colors, and finishes.
Let us guide you in choosing floor coverings that are right for your lifestyle demands and design preferences. That's what we're here for. We measure our success by how happy you are with our products and services.
Contact us today for maintenance details on specific types of flooring. We proudly serve customers in Jacksonville, St. Augustine, Orange Park, Fleming Island, and Green Cove Springs, Florida, as well as the surrounding communities.