Luxury Vinyl Flooring in Jacksonville, FL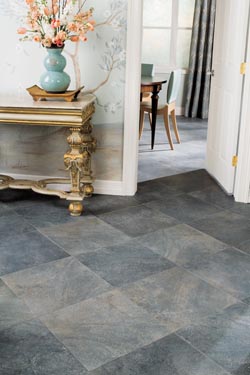 Are your kitchen floors peeling at the seams? Perhaps your bathroom's flooring is dingy or water-stained. Whatever the case may be, the professionals at Flooring America of North Florida are here to provide you with not only exquisite flooring products, but exceptional services as well.
When people hear "luxury," vinyl may not be the first material that comes to mind. But that's because these people haven't spent much time with vinyl floors lately. Over the past decade, manufacturing technology has gotten much better, producing floors that are both more durable and more beautiful than ever before.
When you're looking for resilient, versatile floors, consider our luxury vinyl flooring in Jacksonville, FL. Visit our showroom to see samples for yourself. Our staff is happy to answer any questions you have and even show you what the samples would look like in your space.


Limitless Design Options with Vinyl Plank & Tile
Home remodeling projects are exciting--there are just so many options to choose from. A luxury vinyl flooring installation project is no different. Vinyl comes in plank and tile sheets that are made to look like real hardwood or tile, giving you an incredible amount of design versatility.
If you need help making a confident purchase decision, our knowledgeable sales and design professionals are here to help. Our sales team listens to your needs and gets a good idea of your preferred style. Then, they narrow down the large selection into a more manageable few samples.
Once you have the luxury vinyl tile or plank samples you want, our in-house designers use computer imaging to show you what your choices will look like when installed. This lets you see if the pattern is too busy or the colors are too muted. With these services, you can be completely confident during checkout.


An Easy-to-Clean Flooring Choice
Luxury vinyl plank and tile floors are very popular choices for bathrooms and kitchens. With their water-repellant surfaces, they resist both stains and water damage. If a spill does happen, all you have to do is wipe it up with a damp cloth.
Vinyl floors are also softer than other hard-surface flooring options. Because they have a little give to them, they are especially ideal for kitchens where people typically spend a lot of time standing.


Installations Backed by a Lifetime Guarantee
The quality of the final results depends only in part on the quality of the materials used. The other part is how well the installation is performed. Fortunately, our contractors have years of experience working with luxury vinyl flooring, so they understand the tried and true methods for ensuring your new floors have optimal beauty and durability.
To make sure you are completely confident in the materials and services we provide, we have an assortment of warranties and guarantees. Our Lifetime Installation Guarantee, for example, promises that we'll fix any installation-related issue your new floors ever have--all at no cost to you.



Contact us today to learn more about our luxury vinyl flooring products. We proudly serve customers from Jacksonville, St. Augustine, Orange Park, Fleming Island, and Green Cove Springs, Florida, as well as the surrounding communities.