Add Vibrancy to Your Home with Luxury Vinyl Tile in Jacksonville, FL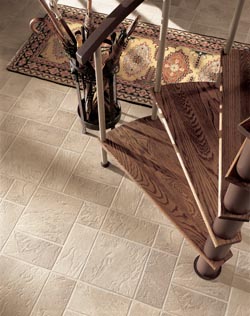 The beauty of choosing vinyl flooring for your home is that it's very versatile. You can find a style you like and put it in your kitchen and then find an entirely different type and use it in your living room. The look is unique, but the quality and dependability are the same.
That's why it is such a popular choice for homes and businesses; you can place it with confidence anywhere in your property. To find the right luxury vinyl tile in Jacksonville, FL, drop by and see the experienced and friendly staff at Flooring America of North Florida.


Quality and Comfort Underfoot
The old saying "vinyl is final" is more than a catchy rhyme, there's a lot of truth to it. Vinyl is a very durable choice for your floors. It can easily stand up to the wear and tear of daily use while only requiring minimal maintenance. That's one of the reasons it's been popular for years.
But that doesn't mean it has stagnated in style or design; the contrary is true in fact as luxury vinyl floor tile is available in a range of styles from modern to traditional. You can get it in planks that look just like natural wood or stone or even a trendy, artistic design.
Apart from its durability, vinyl is also resilient and comfortable underfoot. It also offers a level of sound absorption, so you have rooms which are quieter and more relaxing in which to spend your time.
The list of reasons to choose vinyl doesn't end with quiet comfort though. What else can be said about LVT flooring, as it's known? Quite a lot more, actually.
When you choose this type of flooring, you are getting a new floor which is very easy to maintain and also provides insulation value. This feature is beneficial when it comes to cooling or heating your building. It's also an affordable option when you want the look of stone tiles or hardwood but not the financial impact.


Proper Installation is the Final Touch
When it comes time to lay the floor, our experienced team of installation professionals is the one to call upon. Our installers can provide your floors with a truly individual look by applying their design skills while handling your luxury vinyl tile floor installation. Tiles laid in patterns add a dramatic aesthetic appeal to any room. Not only that, vinyl is adaptable and can be installed on virtually any type of surface for a smooth and even finished product.



Contact us to learn more about vinyl flooring. We proudly serve customers in Jacksonville, St. Augustine, Orange Park, Fleming Island, Green Cove Springs, FL, and the surrounding areas.