Tile Flooring in Jacksonville, FL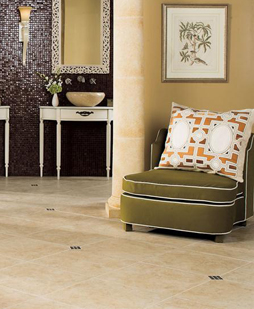 There are few flooring materials that look and function well in every single room of the house--tile is one of those few. At Flooring America of North Florida, we have a broad selection of slate, ceramic, and porcelain tile, as well as the expertise to help you choose the perfect products for your space.
Tile floors are a great choice for anyone who wants a durable surface that's easy to maintain. When installed correctly, they have a non-porous surface that resists stains, mold, and mildew. If a tile does get chipped or cracked, you can replace a single tile without having to redo the entire floor.
In addition to being durable and easy to clean, tile offers an impressive range of design options. With different colors, sizes, and textures available, the final results can be as unique as your personal style. We carry a huge selection of tile flooring in Jacksonville, FL, so we're certain you can find a product--or several--that meet your needs.


Choose from Slate, Porcelain, or Ceramic Tile
At our flooring showroom, you'll find quality materials that can be mixed and matched to create elegant, classic, or bold designs. Slate tile is a great choice for outdoor spaces or areas with a lot of foot traffic. Because it's made from completely natural materials, slate is incredibly durable. Additionally, it offers unique color patterns--no two tiles are exactly alike.
Porcelain tile is one of the hardest tile floor materials around--even harder than granite--making it able to handle heavy foot traffic. And because the color of porcelain runs throughout the whole tile and not just the surface, any minor scratches and scuffs are barely noticeable.
Many homeowners love ceramic tile because of its moisture resistance. The same thing that makes it so resistant to liquids also makes it an allergen-resistant surface. Pollen, dirt, and dust don't get trapped and can be cleaned up in no time.
If you need help choosing between different materials, our sales professionals are happy to give you all the information you need and make recommendations based on your preferences. Visit us to get started designing your new floor.


Get Inspired with Fresh Design Ideas
Our team doesn't just help you pick samples--they offer professional design services as well. We have many customers who know they want tile flooring but don't know what they want the colors and textures to be. That's where we come in. Our designers use computer imaging technology to show you what different styles will look like in your home or business. Then, you can choose the best design with absolute certainty.


Perfectly Placed Tile Floors
Our exceptional services don't end at checkout--we also offer tile installation. Whether you need a whole room done or a few backsplash tiles, our contractors work with both speed and precision to give you gorgeous results that last. And with our Lifetime Installation Guarantee, you can feel confident that you're getting the quality work you deserve.



Contact us today to learn more about our tile flooring. We proudly serve customers from Jacksonville, St. Augustine, Orange Park, Fleming Island, and Green Cove Springs, Florida, as well as the surrounding communities.