Tile Flooring in Jacksonville, FL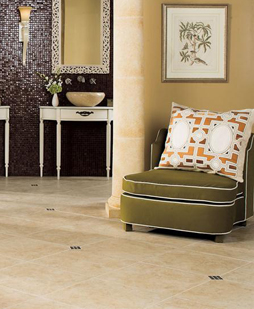 One of the best ways to improve your home is with a new tile floor from Flooring America of North Florida. At our Jacksonville, FL store, we offer a variety of excellent tile products, perfect for flooring, kitchen backsplashes, shower walls, and more! Tile's versatility is perfect for an elegant and timeless appeal in any room of your home. We have a broad selection of slate, ceramic, and porcelain tile, as well as the expertise to help you choose the perfect products for your space. Our team doesn't just help you pick samples–we are with you every step of the way with professional design services and expert tile installations.
No matter what flooring material you choose, our team is always happy to help you find the right ones for your home. Visit our Jacksonville, FL showroom today to view our selections and start your tile project!
Tile Types: Choose from Slate, Porcelain, or Ceramic
At our flooring showroom, you'll find quality materials that can be mixed and matched to create elegant, classic, or bold designs. If you need help choosing between different materials, our sales professionals are happy to give you all the information you need and make recommendations based on your preferences. Discover the types of tiles we carry:
Slate tile

is a great choice for outdoor spaces or areas with a lot of foot traffic. Because it's made from completely natural materials, slate is incredibly durable and slip-resistant. Additionally, it offers unique color patterns–no two tiles are exactly alike.

Porcelain tile

is one of the hardest tile floor materials around–even harder than granite. Its density enables it to handle heavy foot traffic and resist any minor scratches and scuffs.

Ceramic tile

is popular due to its affordability and moisture resistance. The same thing that makes it so resistant to liquids also makes it an allergen-resistant surface. Pollen, dirt, and dust don't get trapped and can be cleaned up in no time.
Limitless Design Possibilities with Wood-Look Tile
Do you want the beautiful, regal look of oak flooring? Or, would you prefer the softer radiance of maple? No matter what look you are attempting to attain, there is a tile option to match. We offer our wood plank ceramic tiles in a variety of shapes, colors, and patterns to suit your particular design needs. This way you will have no problem outfitting every room in your home with the stunning wood-look flooring you desire with all the benefits of tile. No matter if you are looking for a specific wood plank ceramic tile or you want to browse our vast collection, we are always ready to give you any assistance you need.
Get Inspired with all the Benefits of Tile
There are few flooring materials that look and function well in every single room of the house--tile is one of those few. When choosing a new floor, you need a solution that is strong enough to hold up to your hectic household. Thankfully, tile is the answer that you're looking for.
With different colors, sizes, and textures available, the final results can be as unique as your personal style. We're certain you can find a tile product that meets your design and functional needs with our large selection of quality tile brands, including Spotlight, Floorcraft, Mohawk, Marazzi, and more! Discover the benefits of choosing tile for your home:
When installed correctly, tile has a non-porous surface that

resists stains, scratches, mold, and mildew.

If a tile does get chipped or cracked, you can replace a single tile without having to redo the entire floor.

A tiled surface provides high levels of moisture protection and will not shift in Jacksonville's high humidity, even in basements and bathrooms.

Tile is easy to maintain with most spills wiping away with a simple cloth.

Tile offers an impressive range of design options to make a bold statement or a simple look.

With all of its benefits, tile upgrades the overall value of your home.

Great for Florida's heat and humid weather, tile keeps your home cool, allowing you to save on energy costs.

How to Maintain Tile Flooring
Most customers enjoy slate, ceramic, or porcelain tile's ease of maintenance and care. You never have to worry about spills ruining your floors. When you visit our showroom, our flooring experts will explain how to best care for your specific tile choice. All it takes to keep your tile looking brand new is following these simple steps:
Sweep or vacuum regularly

Mop with a manufacturer-recommended floor cleaner for heavier messes

Make sure to avoid grease and oil-based detergents

Always rinse thoroughly with water and dry the floor
Professional Tile Flooring Installations
Our exceptional services don't end at checkout. At Flooring America of North Florida, we provide professional installation services to correctly place your new floor in your home. Our experienced team has the skills and tools needed to cut, layout, and seal your new ceramic or porcelain wood tile. This ensures that your new surface looks fantastic and that it will last for years. Whether you need a whole room done or a few backsplash tiles, our contractors work with both speed and precision to give you gorgeous results that last. With our Ultimate Confidence Guarantee, you can feel confident that you're getting the quality work you deserve. This promises we will replace your floors at no extra cost should you be dissatisfied within 30 days. Ready to learn more about tile flooring?


Contact us today to start your tile renovation project! We proudly serve Jacksonville, FL, and the surrounding communities.